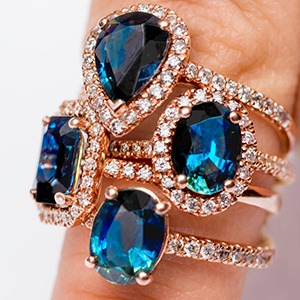 SO you might have your eye on the perfect ring or another show stopping piece of jewellery. Have you found what you have been searching for, perhaps a bit unsure of how you will be able to pay for it? You may wonder if you can even afford it?
PANIC NO MORE! We are happy to help.😀 At Shiny Rock Polished we offer a variety of ways to pay for that PERFECT jewellery piece, whether it is a direct payment or an instalment. We make the process hassle-free and best of all Your PURCHASE IS SECURE!
Our beautiful Cat-Claw Emerald Cut Moissanite Ring set with one of our gorgeous emerald cut moissanites set in 14 or 18kt Rose, Yellow or White Gold. This statement piece makes for the most stunning engagement ring.
Each Affinity Ring represents a cherished passion, a special moment or heartfelt sentiment This unique gold ring is perfect for bridesmaids, sisters or best friends.
This beautiful delicate gold ring is perfect on its own or can be paired or stacked with any of the rings from the BLUSH Collection. It  works well with a beautiful, simple wedding band or stacking ring.
Don't be shy. If you have any questions, chat to me, your new bestie. I will be happy to assist you.
Until next time
Jennifer 😊